West Beach Caravan Park is in a small village called Hopeman in Scotland. Situated on the Moray Firth it's in a spectacular location and is, in our opinion, very much worth a visit.
Hopeman
Hopeman is a small village of about 1700 people on the Moray Firth. The Caravan Park is situated along West Beach in Hopeman, hence the name. The village surrounds Hopeman harbour which used to be a busy fishing harbour. It's much quieter now.

West Beach Caravan Park
West Beach Caravan Park is situated where the old Hopeman train station used to be. The station house and platform are still there and provide an air of history to the site which is embraced by the site owners. There is a definite train theme running through the site. You can almost imagine the trains coming and going – from the days when Hopeman was a busy fishing village. The caravan park goes from the old station to the beach – the west beach. 
The beach is nice and flat, a good place for paddleboarding, swimming (if you are brave enough) and other water sports. It's a really nice spot. 
West Beach Caravan Park is big – with a wide variety of accommodation including static caravans, various glamping options, lodges (small lodges), and camping. There is loads of room for caravans and motorhomes and there are a lot of pitches right on the front, practically on the beach for motorhomes and caravans. The caravan park runs along the beach for a good distance and goes from sandy beach to stony beach – with climbing and rockpool opportunities. 
Kids love this place – there is so much to explore on-site they may never want to leave. There is a strict 5mph rule for all motor vehicles so it feels very safe for children. There were a lot of children there when we were visiting and they all seemed to be having a great time. Even our twelve-year-old thought it was great so long as we never acknowledged we were his parents or looked at him. 
We shall look at what we got up to in a bit but for now, let's look at…

West Beach Caravan Park Pitches
The pitches on the front are a good size and can take a large motorhome and awning with no problem. Our motorhome is over six meters long and looks small on the pitch. A lot of people will have a caravan, awning at least the size of a caravan and car all side by side on a pitch and they all fit. There are smaller pitches so make sure you know what you are booking if you decide to go.
The pitches that are not on the front are also a good size, they do look smaller than the main pitches but are still large enough for a caravan, awning, and car or motorhome and awning.
Most of the pitches are fully serviced so no carting freshwater or grey waste about. There are a few black water disposal points and all are kept very clean. 
All the pitches have a 16A electric hook-up so there is plenty of power. 
There is a drive-over grey waste disposal point and freshwater fill-up for motorhomes if required. The pitches are so well serviced this point rarely gets used.

Toilets and Showers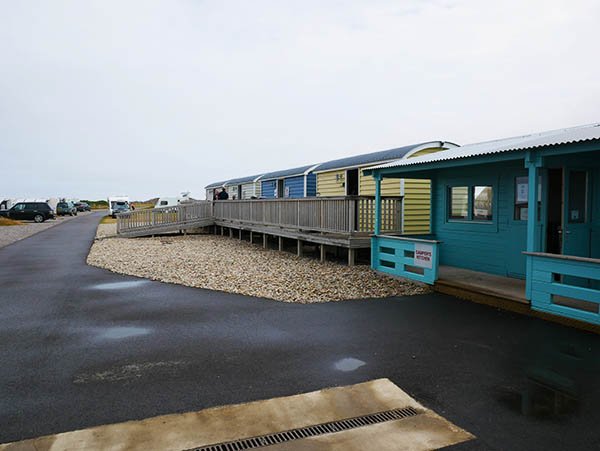 Toilets and showers are very good. When you go in there you pretty much have your own bathroom. There are six cubicles – 2 ladies, 2 gents, and 2 for anyone. Each cubicle has a toilet, sink, and shower. Each time I went to use them they were immaculate. There were a further 4 bathrooms up on the hill, which are also excellent. 
For those of you with hair, there are hairdryers in the washrooms. 
In general, the facilities on the site are very well kept, clean and a joy to use.


Other facilities
The site does have Wifi, washing machines, camping kitchens, a few wastewater disposal points for black and grey waste. 
The wifi on the site is as you would expect on a campsite where there are hundreds of devices clambering for bandwidth, not like it is at home. With that said you can still keep in touch with loved ones and be up to date with the latest news and gossip.
The washing machines are huge and will take large loads, they were down to 2 machines instead of 3 when we were there but we still managed to have clean clothes. There are three tumble driers as well. Costs about £6 to wash and dry a large load of clothes. Very useful if you have a lot of kids or messy adults.


Onsite cafe and bar
One of the things that made our visit really special was the onsite cafe and bar. The Bootleggers cafe is based in Burghead but the cafe is closed due to the Covid restrictions, so they seem to have set up on the campsite offers very good meals from 9 am until 7 pm, the bar opens until 8 pm. 
The food is excellent with things like roasted crab claws on the menu – not your usual camping treats. We were eating like Lords on this campsite  – it really was a treat. Followed up with a cocktail or gin and tonic from their Salty Dog bar, made the visit to Hopeman really special. The whole setup is so well done with social distancing well taken care of. Once you have your meal you can eat in large covered areas set up on the camping section of the site, or your own van of course.

Beaches
There is a sandy beach right at the campsite, although the beach where the motorhomes and caravans are is stonier. This made it great for exploring  – the rocks are, surprisingly, not very slippy so you can explore rock pools with relative ease.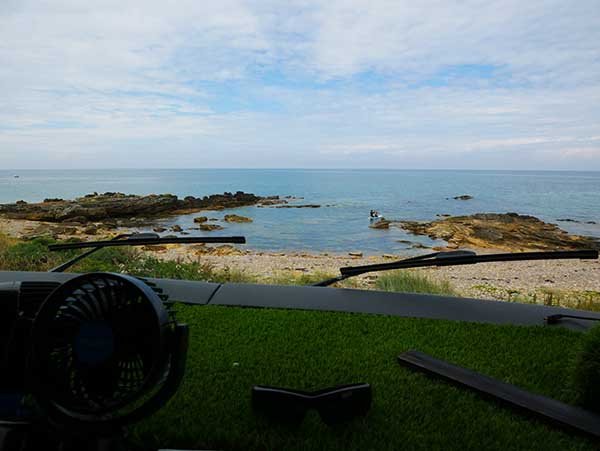 Kids love to explore the rocks and if you are feeling brave you can go in for a swim at the beach, the great thing is you don't have to leave the campsite. 

Dolphins
When we were there pods of dolphins would swim by the campsite either into or out of the Moray Firth. It was a real treat to see them and everyone would be out for a look and watch them slowly swim by the campsite. A very welcome bonus. 


Midges
Coming from the west of Scotland the midge can be a real problem. Fortunately, there are very few biting insects on the east side of Scotland. This difference is incredible, you can watch the sunset and you don't need to put on a gallon of Smidge to keep those little bloodsuckers off any exposed skin. So unusual, coming from the West Coast.




Local attractions

Hopeman Harbour
Hopeman harbour is a great little harbour with a very large harbour wall. Well worth having a look. From the wall, you can see east and west beaches.


East Beach
East Beach is a real gem, again a nice flat sandy beach with some great rock pools as well. There is a line of beach huts, each with their own design and character. 
If you continue east you will see some very interesting rock formations.
Walks
There are a lot of great walks around Hopeman. The walk to Lossiemouth is a good one with a good path and caves to explore on route. The whole walk is about four and a half miles each way – we never quite made it all the way but the views are stunning and worth the effort. 
We only made it to the caves which are great to explore, one is really quite deep. 

Burghead
The walk to Burghead is nice and is a very good path along the old railway, it's about 2 miles.
Along the route which is a very nice cycle path, there is a bike repair station – these should be standard on all cycle paths, a great idea. 


Golf
There is an 18 hole golf course in Hopeman that was founded in 1909. I am not a golfer but I do hear from golfing friends that Hopeman Golf Course is a good one.
Icecream
In Hopeman there is an ice cream shop – it's deadly. When we were there the weather was reasonably warm – above 16 degrees C (roasting as we say in Scotland). Because of the heat, we had to visit the ice cream shop at least once a day, we really had no choice. It was difficult, we even managed to keep up our daily visits on rainy days as well! Big supporters of this local business.


Butchers
The local butcher shop is worth a visit. The staff are very helpful and friendly. They have a wide range of produce and even have a couple of vegetables for vegan visitors. They have it all.
Other Shops
There are a couple of shops on the main street that look tiny from the outside and are huge on the inside (I say huge but certainly bigger than expected). 
There is a chemist, a Chinese takeaway and a chippy at the top of the hill. We never made it to the chippy, it was just so far to walk uphill all the way (a good 200yards). That distance may have just saved our lives. 


Other things to know
Not the cheapest site we have visited, nor the most expensive. It cost us £36 per night for the three of us (2 adults and 1 child)
If you want to book into the site, book in advance, way in advance. February is a good time to book for the summer. Who knows, you might even see us there.
You can check their website here – http://westbeachcaravanpark.co.uk/