What's the difference between a campervan and a motorhome?
Having done years of research to find the information we needed to find our motorhome I wanted to try and cut your research time down a bit.
A campervan is a van conversion that you can stay in, usually a converted commercial vehicle with basic facilities. A motorhome is built onto a commercial vehicle chassis, usually allowing the motorhome manufacturer to create a larger and more luxurious space.
Motorhomes tend to be larger and much more expensive than campervans. They usually have a lot of the things you would have in your home such as a toilet, shower, kitchen, beds usually 2, 4 or more. They have a bit of space and you can shelter in them comfortably.
A motorhome is usually very heavy and most in the UK tend to be around the 3.5-ton mark, a campervan is usually much lighter
Advantages and Disadvantages of the motorhome
Advantages
They are generally quite roomy

They tend to have more luxuries and feel like a home

Most of the equipment is well planned out for the optimal use of space

You can cook, usually have a 2 or 3 burner hob.

Usually, you will have an area where you can dry coats and towels

You will have water and fridge

There will be a heater and the insulation tends to be good

Usually, have a toilet

They usually have a good living space for the number of people it can sleep
Disadvantages
These are big vehicles and guzzle the fuel

Can be very expensive to purchase

Difficult to go incognito, you tend to stick right out

You can cook and clean the dishes in the motorhome

Can be more of an isolated experience as you can stay inside

Can be difficult to manoeuvre in tight spaces, some car parks or even small villages

You have the problem of dealing with all the luxuries you have, like grey and black water and where to put this.

A bit harder to free camp as you really stand out in populated areas

Because of the number of berths you may have more passengers than you would like
Advantages and disadvantages of the Campervan
Advantages
Small and compact

Compared to a motorhome they are good value for money

They are lighter than a motorhome so you will get better fuel economy.

As they are small they are generally easy to park in supermarket car parks, pretty much wherever a car can go.

The size restricts the amount of stuff you can carry

You are forced outdoors more than you would be in a motorhome as its usually cramped to sit inside.

They can be very cosy if there is just a couple of you

You can really just park anywhere without being intrusive
Disadvantages
They are small, the amount of food and water you can carry will be limited.

If the weather is really bad it becomes difficult to keep everything dry

Travelling with kids may be a challenge though not impossible

Cooking can be a challenge especially in poor weather

There is not much room for anything extra, like tools or extra dry clothing

You have to be very aware of everything in the van (is probably an advantage as well)
What Size of Motorhome is the Best?
The best size motorhome to get is….
Well, you are going to have to decide that for yourself. We looked at motorhomes and campervans and we decided on the motorhome. The reason is we are planning to do more long-term trips. I think, and this is my personal opinion, the campervan would get very small very quickly especially as we would be travelling with kids. The motorhome just offered a better base. The plan is to camp up and use our bikes to see our surroundings, so it would be good if there was somewhere we could dry any wet gear and if we are forced to stay in it would be a comfortable place to be.
Our set up is a double bed above the driver, a double in the rear lounge and a double in the middle dining area. We tend to set up the front and the rear beds every night and leave the middle one set up as the table. That way anyone can get to the toilet or have a cup of tea if they are up before everyone else. This works well for us.
During the day we tend to use the dining area for most things and the front seats (driver and passenger seats) lets you get away from the main area but the lounge in the back is brilliant, its like having a spare room and you can go up there for a little bit of peace and quiet. I never realised how good and well used that area would be.
So when we were choosing the layout we wanted to go with the smallest we would feel comfortable with and not get under each other's feet. There are four of us and we are 3 adults and a 9-year-old, one of our kids is no longer a kid. The 644 seemed like the best for us. If we didn't have the kids we would definitely go for a 544 which doesn't have the rear lounge and tend to be a bit shorter and more manageable.
Each person will have their own needs and wants but for me, to go as small as possible makes sense.
Why do people have Campervans?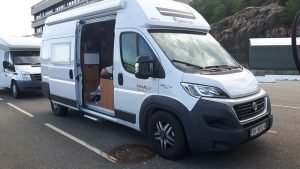 Campervans are just so like having a van, they are small manoeuvrable and comparatively easy to drive. They tend to be not much different from a car, some would say even better than a car due to the higher driving position. I know a few people who use their campervans as their daily driver and go to work and meetings in them. Great for festivals and concerts, they tend to just blend in and you hardly notice them. There are many advantages to having a campervan and may give more of an adventure feeling because you are forced out and be in the elements wherever you happen to be.
I would have a campervan in a minute if I was going away for weekends or even a month and there was only two of us, for that they are great. There are a lot of campervaners who live in them for years. I know it can be done, it's just not for us. Who knows what the future will bring I may get one yet.
What is the best? Motorhome or Campervan?
That is entirely down to you and your need. I don't think there is a best, they fulfil very different needs and wants from whoever buys them. For us, the motorhome was a no-brainer. We needed somewhere we can comfortably stand up and a comfortable space to live in without being ridiculously large.
Most of the motorhomes in Europe do not have the side extensions that make the motorhome much wider. This is probably due to the weight constraints, especially in the UK where if you are over 3500kg you will require a special licence to drive. This tends to keep the sizes of the motorhomes quite small when compared to the States and their amazing RVs.
The good thing about smaller motorhomes is the parking and the better fuel economy, you have to trade off various things for what you want, there is no perfect solution for either a motorhome or a campervan. You will take an age to decide as these are not small purchases, they cost a fortune. So take your time and do the research it will pay off in the long run.
Now that you have learned what the difference is between a campervan and a motorhome now you can learn the other confusing classifications of motorhomes and campervans. This is the classification of Type A, Type B and Type C Motorhomes. Just when you thought you were getting the hang of this stuff. There is an explanation here if you want to find out and blow your mind!
Only joking, it's simple enough.