Rothiemurchus is a campsite about 2 miles from Aviemore. It is set in the Cairngorms National Park. It's probably the only campsite we have been to that feels like you are in the middle of a forest – with the comfort of mains power.
It is definitely one of our top places to visit. What I would say is it's more geared towards slightly older kids, there are no play parks or designated kids areas in the campsite but it is in a forest!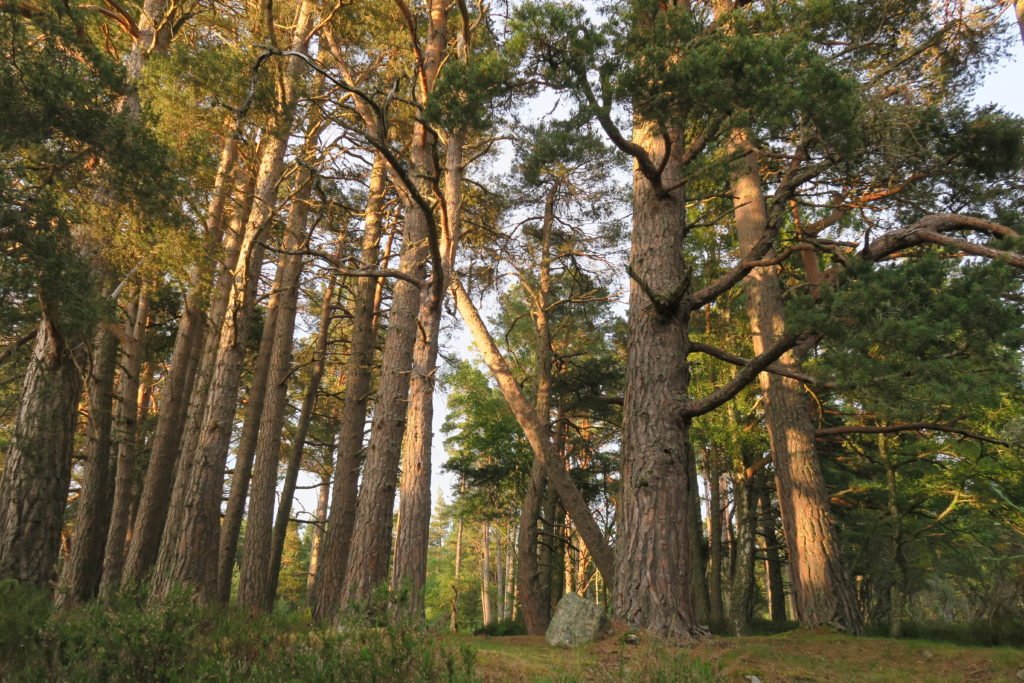 Rothiemurchus Camp and Caravan Park
The campsite is set in a forest. There are a lot of trees in the campsite and it gives the real impression that you are camping out in the wilds, while still having access to power, freshwater, and hot showers. 
This is what we love about this site, you really feel that you are in the woods and you can see red squirrels jumping from tree to tree.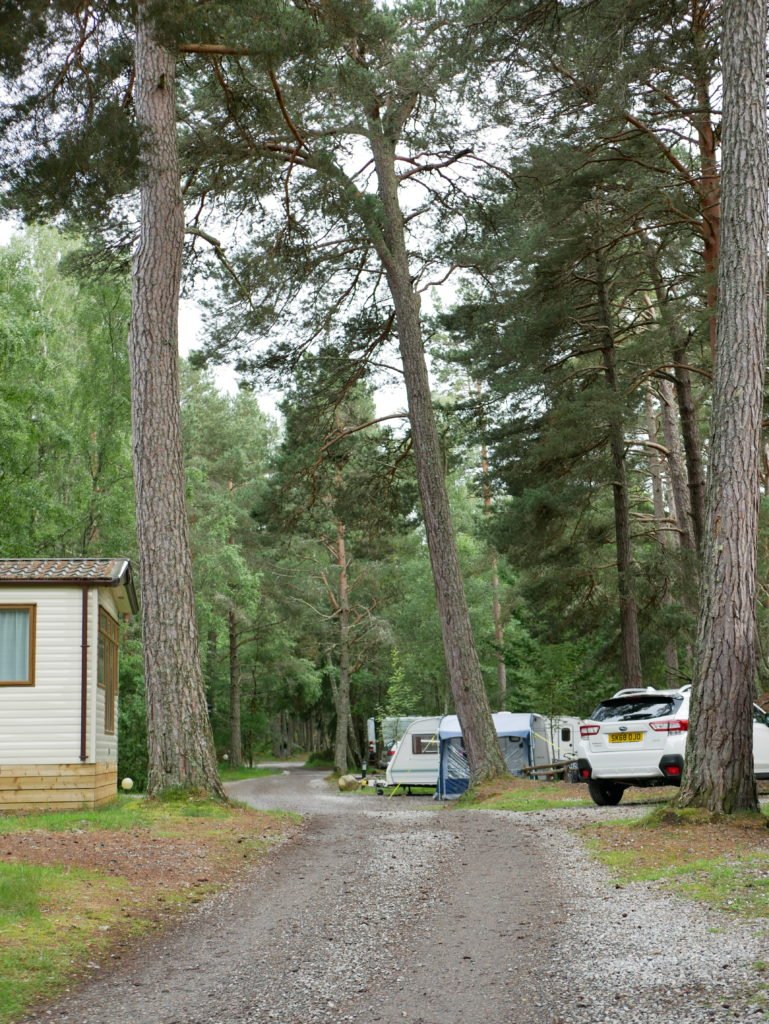 Each pitch is a good size but they are all different. When you contact them they will work out which pitch is best for you based on the size of your vehicle and the number of people in your party. 
The pitches near the office are situated in a clearing so you don't get that middle of the forest feel that you get from the pitches closer to the toilet block. 
Near the toilet block is for campers only, which makes complete sense as the kitchen is there along with the toilet facilities.
We always find the staff helpful and friendly.


Facilities
The site itself has some great facilities. There is quite a good motorhome service point where you can empty your grey waste and toilet. There is also a freshwater tap here as well and it's easy enough to park in. 
The toilets on site are really great and was one of the first sites we visited where each toilet is a full bathroom. They are kept clean and I have never had to wait for a shower. 
There is a laundrette on the site as well with a couple of machines and dryers if you need them.
There are also midge eaters placed throughout the site that apparently eat the midges and keep the numbers down. I would say – don't forget the Smidge, you will need it. 
I find smidge is generally enough for me but if you are really badly affected by midges this should help – 
There are no shops at the campsite so we generally cycle to Aviemore for any large purchases but there is a shop at the Rothiemurchus Centre, about a mile away from the campsite. The shop in the Rothiemurchus Centre has a lot of very nice food but is pricey – we tend to go nuts in here and spend a fortune, totally worth it!
There is a cafe here as well which will quite easily relieve you of a few pounds from your wallet and quickly add them to your waste. 


Cycle Paths
There is a cycle path running along the length of the campsite. It can take you right to Aviemore without having to be on the road. Or, you can cycle to Loch Morlich, again without being on the road – you just have to cross it once. You can cycle to Loch an Eilen again without being on a road. There are basically loads of cycle routes all around the area and you can spend a lot of time on your bikes and never see any traffic apart from other bikes. 
Most of the paths are suited to mountain biking, some can be quite rough. As you explore you will find some small bridges to get your bikes across the rivers. 
We love this place for cycling. It's a really amazing place to take your bikes and explore. You will see so much and you feel like you are in a wilderness.
More Things to Do
Where to start? There is so much to do in this area, pretty much anything you would want to do outdoors can be done around Aviemore. Here are a few ideas.
Rothiemurchus Estate
There are loads of things to do at Rothiemurchus including Clay Shooting, pony trekking, archery, Treezone. There is a fishing area, quad biking, canoeing to name but a few. 
We have gone on the pony treks for beginners which are great, our son loved it so much he wanted his own horse. 
We went canoeing on Loch an Eilen – it was the wettest day of the year but was still great fun. We would probably have been dryer in the Loch rather than the Canoe. 
You can find out much more by having a look at their website – https://rothiemurchus.net/outdoor-activities-at-aviemore/
Aviemore
Aviemore is a busy little town. It gets loads of visitors and is the hub for the Cairngorms National Park.
I quite like Aviemore. It is usually very busy but has some nice Cafes and restaurants but mostly there are a lot of outdoor shops. It is, outdoor shop central. If you like outdoor clothing, shoes, accessories then this is the place for you. You will love it. Every make that is popular has a shop here. 
Aviemore is much more than shops though, from here you can have a journey on a steam train, you can do some serious walks – pretty much anything outdoors can be done from here. It's an all-year-round destination as there is Skiing in the winter, among other things. 
Have a look here to get started 


Loch Morlich
This is the center for water sports in Aviemore. You can see why. This Loch has sandy beaches, it's a great size so it never gets too rough. 
There is a campsite on loch Morlich that backs onto a sandy beach and looks great for young kids who can just play away in their own little worlds. It's a beach holiday but you're not near the sea. The campsite there is large and busy, personally, I prefer Rothiemurchus.
Loch Morlich does get busy in the summer, especially during the English school holidays but for good reason – it is a truly stunning location.


Loch an Eilen
Loch an Eilen Is a beautiful loch and has a small island with the ruins of a castle. The castle is thought to date back to the 14th century so it has seen a lot of changes during its life. There is a good walk right around the loch which is well worth doing, It's not very far to walk and the views and the forest are spectacular. 



Final Thoughts 
What I would say is that it's difficult to book. Everything has to be done over email and there is a form to be filled out. You are then contacted by phone to pay your deposit. The cost is about £37 per night for the three of us. 
This could probably be made easier but the effort is well worth it.
This campsite is a real gem, with so many activities close by. The site is open all year round due to the winter sports in the area. You can visit any time of the year and spend some time in the forest. Well worth a visit.